Addressing Radiology Recommendations Collaboratively
In collaboration with the Department of Quality and Safety at BWH, the Department of Radiology launched a new initiative in October 2019 called Addressing Radiology Recommendations Collaboratively (ARRC).
The primary goals of this initiative are to:
Here's how ARRC works:
As part of ARRC, radiologists are asked to use a Blue ANCR to document an imaging follow-up recommendation.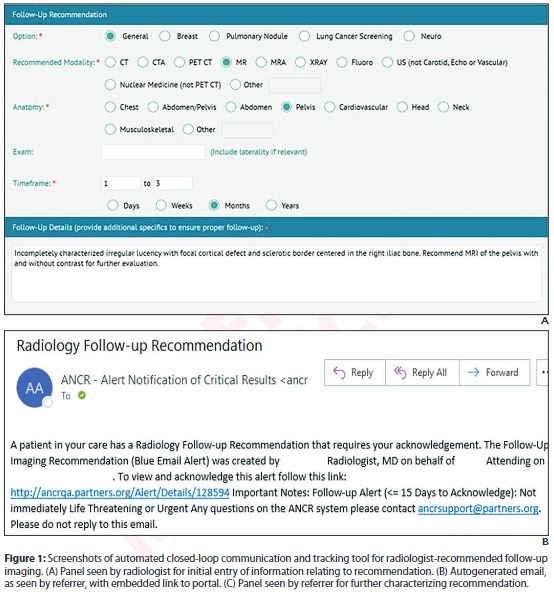 Preliminary data shows our ordering providers agree with radiologists' follow-up recommendations almost 90% of the time, and the program has been well received by various members of hospital leadership.
We named the initiative radiology medical management program to emphasize the goal of effectively managing imaging needs of patient populations. Highlighting the impact of our interventions to reduce unnecessary imaging, we were able to negotiate with our local payers (Blue Cross/Blue Shield, Tuft's, Harvard Pilgrim) to avoid onerous payer pre‐authorization programs for providers who used our radiology medical management program beginning 2005.
The integration of an enterprise scheduling module into the workflow of the ordering provider's practice ensures that the imaging capacity created by the elimination of inappropriate testing as the result of CDS improves access for appropriate imaging services. The value delivered to the patient and the ordering physician through this convenient, web‐enabled, integrated workflow also reduces leakage (i.e. reduces the number of imaging studies referred to radiology providers outside BWH, BWFH and DFCI). A series of peer reviewed publications highlight the impact of this initiative. For example, we have observed a 12% sustained reduction in ambulatory high cost imaging per 1000 member months for a commercial payer population (2005‐2009)3, a 21% reduction in use of CT per severity of disease adjusted inpatient admission (2009‐2012)4, a 33% reduction in use of CT per 1000 ED visits (2007‐2012)5 and a 5%6‐7.5%7 reduction is repeat CT scans.
Results of our condition‐specific interventions include a 12.3% reduction in use of MRI for ambulatory patients with low back pain, a 20% reduction in use of chest CT pulmonary angiography (CTPA) for suspected pulmonary embolism in the ED, and a 12% reduction in use of CTPA for inpatients10. We have shown that CDS can be used to unambiguously measure, monitor and enhance provider adherence to evidence11 and national quality measures. We have described best practices for imaging CDS and demonstrated that properly deployed, providers rarely enter erroneous clinical data to avoid onerous CDS interactions (to 'game the CDS system'). We have also shown that the educational effect of CDS, even if based on high quality evidence, is unlikely to optimize practice or to reduce unwarranted variation among providers. CDS‐enabled consequences for ignoring high quality evidence embedded in CDS will likely be needed to enhance the educational effect of CDS8,13. In parallel, the leakage rate for high cost imaging at BWH has plummeted to <1%, compared to 13‐25% leakage at other academic institutions, based on analysis of CMS claims data from the recently completed Medicare Imaging Demonstration. The pioneering work on imaging CDS at CEBI and BWH has helped influence public policy.